Iris Hospital - Brussels
Architectural solar shading for Iris Hospitals' 'New-Tech' campus in Brussels.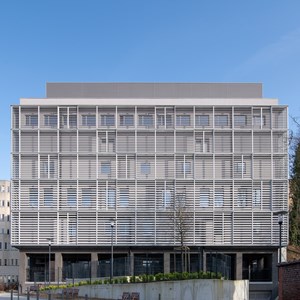 A modern complex with numerous technological innovations providing maximum benefit to staff and patients alike. That is an accurate description of Iris Hospitals' 'New-Tech' campus in Brussels. Architectural solar shading with sliding panels and sleek cladding adorn the façade.
DucoSlide LuxFrame sliding panels guarantee maximum privacy while retaining natural daylight for patients and care providers. The solar shading reduces the cooling load by up to 63% during the summer months. In winter, they admit the welcome warmth of the low sun, resulting in optimum energy gains. The robust frame profile allows heights of up to 6 metres.
A building's image can be marred by humming and blowing external units of installations on the roof, but technical facilities like these can be mergedinto the façade. DucoWall Classic offers the solution here. The louvre wall system provides aesthetic concealment of technical installations. Used in conjunction with the sliding panels, the result is a stylish and sleek design. In addition to a louvre wall for screening, a ventilated louvre wall with high-performance louvre blades was also provided, thereby ensuring very good air flow and excellent water resistance.