DUCO joins forces with Daikin Europe for international expansion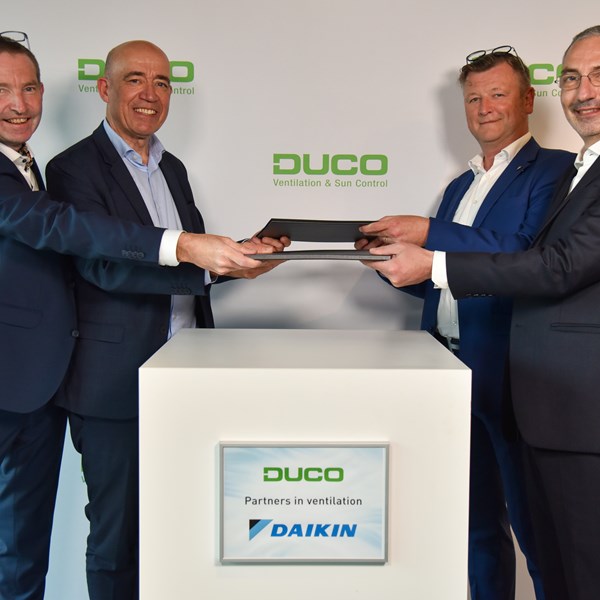 16/07/2021
As a Belgian manufacturer of ventilation systems, DUCO has for 30 years been synonymous with innovative and high quality products that guarantee a healthy indoor climate for the end customer. The company does this with its wide range of window ventilators and boxes, lamella grilles and fabric solar shading. Daikin Europe has now picked up this unique positioning and will be launching in the residential ventilation segment in partnership with the Veurne-based company.
Last year, air quality in residential buildings became noticeably more important. As a result of the corona pandemic, people became increasingly aware that a polluted indoor climate has a major impact on our health. Ventilation specialist DUCO and Daikin Europe are also aware of this impact on people and are joining forces.
Setting trends in mechanical ventilation
Since the start, DUCO has been a pioneer and trendsetter in mechanical ventilation. Today, DUCO can deliver not only the quietest D systems on the European market, but also the smartest. This is thanks to an integrated 2-zone operation on the DucoBox Energy Premium and automated demand based on CO2 and relative humidity on the entire D range.
That way, DUCO offers not only maximum performance during the process of ventilation itself, but the company also manages to confine the ventilation to only those rooms where it's needed, for as long as it's needed. The end result? DUCO succeeds in providing the end customer with a healthy indoor climate combined with minimal energy consumption and maximum (acoustic) comfort.
Golden partnership
To respond to the increasingly pressing demand for total residential solutions, DAIKIN has now joined forces with DUCO. DAIKIN will, therefore, be offering the advanced DUCO solutions to customers across its entire European network.
"We are seeing residential ventilation become increasingly important. More and more of our professional customers are asking us for total solutions in their pursuit of a one-stop shop. And so we set out to find a reliable manufacturer that, like DAIKIN, prioritises quality, innovation and comfort and that would enable us to set ourselves apart in this segment, one that is new to DAIKIN. In DUCO, we found a partner here in Belgium (DAIKIN's European HQ is in Ostend)," says Anthony Dimou, Deputy General Manager of Sales bij Daikin Europe. "We were immediately impressed with the products and the professionalism of the DUCO team and we're looking forward to initiating our customers in the DUCO solutions."
DUCO's CEO Luc Renson also speaks of a fine partnership: "As a multinational active throughout Europe, DAIKIN is a dream partner for us. We will be able to market our ventilation systems on a bigger scale and, with that, underscore our European ambitions. Both companies have the same DNA: quality, innovation and completely hassle-free service for our customers. That's what made us a good match. There is still some work to be done on effective ventilation legislation in some countries, but we are convinced that more and more people are becoming aware of the importance of ventilation. For their own health and that of their children and their homes. As a result, more people will eventually make a conscious choice in favour of high quality total solutions. Therefore, we are thrilled to be able to announce this new partnership today so we can keep on contributing to a healthier and greener Europe."
ting to a healthier and greener Europe."