DUCO is ready for BAU 2023 with several sustainable solutions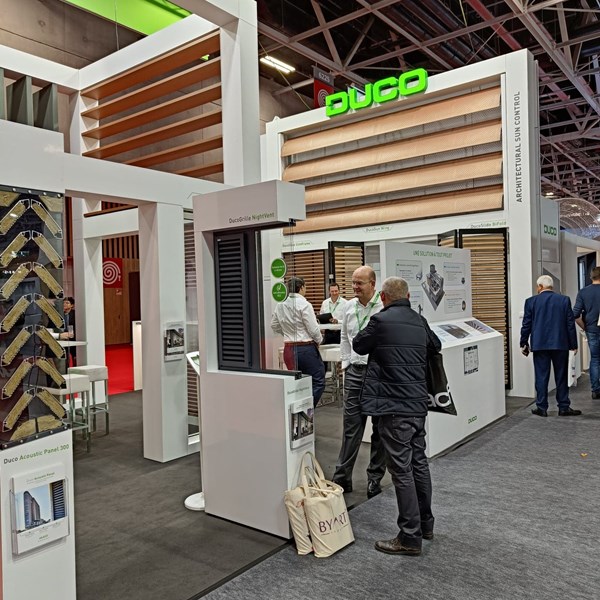 08/03/2023
DUCO is not only active regionally, but is increasingly expanding its business internationally. Its participation in the world's leading trade fair BAU is proof. During the trade fair for architecture, materials and systems (17 to 22 April 2023 in Munich), DUCO will present its latest developments in the field of natural ventilation and architectural shading in Hall C2, Stand 339.
Innovation in outdoor sun protection
An architectural and efficient solar shading solution in the exterior of any building is essential for regulating space heating caused by solar radiation. As an integral part of the façade - the visible part of the building - the large-format DucoSun Cubic louvre blades allow the integration of lighting on the façade, thus giving free rein to the architect's imagination. Elegant, creative and modern.
Innovation in sliding panels
The DucoSlide range consists of sliding louvre blades made of wood or aluminium, arranged within a robust (LuxFrame) or discrete (SlimFrame) frame. The DucoSlide SlimFrame will delight purists with its minimalist aesthetic thanks to its narrow frame. The DucoSlide LuxFrame will become an architect's favourite thanks to its wide range of variants. Large windows? Don't worry, the DucoSlide Luxframe 45/130 system adapts perfectly to heights of up to 6 m.
Innovation in ventilation
During the fair, DUCO will also exhibit its DucoGrille Nightvent ventilation solution. Airtight buildings and good insulation are current topics that are becoming increasingly important in the construction industry. Especially in order to avoid unwanted energy losses as far as possible. Summer comfort is therefore playing an increasingly important role in the planning of buildings. This is where the DucoGrille NightVent can play a primary role by providing effective cooling in a natural and energy-saving way.
Innovation in sound insulation
The Duco Acoustic Panel will also be on display. Sound insulation plays an important role in projects in densely populated urban areas. The Duco Acoustic Panel ventilation grille for wall installation meets these requirements. Made of extruded aluminium profiles and always manufactured to the required size, the Duco Acoustic Panel 300 has a high attenuation value of no less than 17dB due to its design.
Innovation in louvre wall systems
The DUCO louvre wall systems are designed for a wide range of applications. The DucoWall Screening was developed especially for screening walls. Whether on roofs for the protection of utility technology or on car parks as light protection: DucoWall Screening always guarantees perfect integration into the building's silhouette and the simplest installation. DucoWall Classic W130 HP louvre walls impress with their specially shaped 'High Performance' louvres with excellent water separation and superior aerodynamic performance. Both louvre systems are on display as part of the extensive DUCO range.
Come and discover DUCO's total solutions for efficient and sustainable ventilation and solar shading at BAU in Hall C2, Stand 339. The enthusiastic DUCO team will welcome, inform and inspire you with open arms!
Information for the press: Contact Daphne Mertens at +32(0)58/330033 or by email at daphne.mertens@duco.eu.