Focus on security: Duco offers full range of security louvres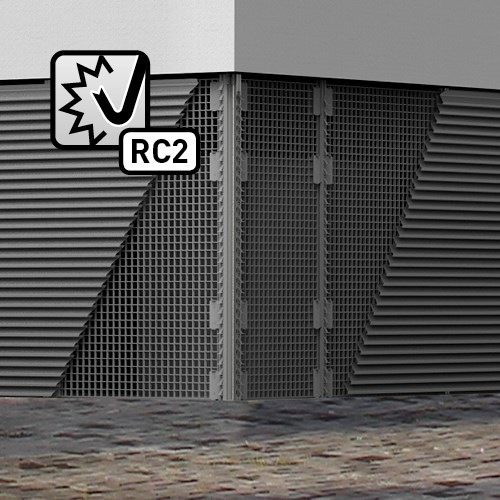 05/12/2018
Once upon a time louvres were a method of letting air in and keeping the weather out. Over the years we have installed or stored more and more valuable equipment behind the louvres. It also seems that more criminals have a desire to gain access. In many situations a simple single blade, basic louvre system is enough for your needs. However, when valuable possessions may be targeted for theft or vandalism, it is important to look very closely at the protection you offer.
RC2 solutions
Duco can offer simple and flexible louvre systems which are also secure. RC2 is the effective European standard for burglary resistance and Duco can provide RC2 solutions across the board. In the case of a bicycle store. Perhaps the DucoGrille Solid ++ will give the ventilated environment that keeps a bike in good condition and also provides security.

For clarity RC2 forms a shorthand when regulations EN1627:2011 and NEN 5096 are being adhered to. Our solutions reach these demanding criteria.

You may ask about secure solutions for plant rooms. We at Duco have a patented solution which can be incorporated into each of our louvre wall systems. Not only will the louvre provide a great technical airflow and weatherability solution but also give the security you need. So you can let in the air you need to provide the right environment for your needs and keep out the things you wish to repel.
More information?
If you are interested in knowing more about our secure systems you an talk to one of your regional advisors. You can also send us an e mail info@duco.eu. We at Duco are here to help. We look forward to answering your questions.