Point of View - Nieuwegein (NL)
Newly built residential tower with Duco Acoustic Panel acoustic louvres.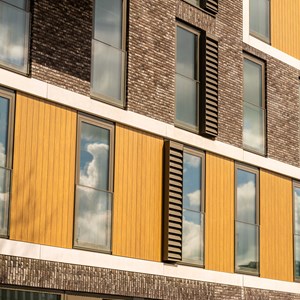 Eye-catcher in

Nieuwegein

A new impressive residential tower block has sprung up in the heart of Nieuwegein. Point of View, a residential tower block with 48 owner-occupied homes and underground parking is to be found a stone's throw from the City Plaza shopping centre. The very consciously chosen dark façade stone, combined with the wooden highlights, makes Point of View a real point of interest in the Nieuwegein landscape. Klunder Architecten had a clear objective in mind for this project.
Façade treatment for noise

The Herenstraat in Nieuwegein is not exactly the quietest neighbourhood. A noise calculation by Buro Bouwfysica quickly showed that this was a site with high noise levels. "There had to be a solution to ventilation to be provided without causing noise pollution. Due to the noise exposure on the façades, no opening sections were allowed to be created," Mr Berghuis continued. "We sat down with DUCO and Buro Bouwfysica to see what solutions were possible and that's where the Duco Acoustic Panel came to the fore."

The Duco Acoustic Panel is a sound-absorbing recessed wall louvre. It is always custom-made and equipped with sound-absorbing, non-flammable mineral wool. It provides acoustic damping up to 17 dB. An ideal choice, therefore, to ensure occupants' comfort in this residential tower block.

Discover the benefits of acoustic ventilation
Cooperation with top result

Klunder Architects and DUCO then continued their consultations. Naturally, the products had to match the character of the building as closely as possible. Format, colour and finish were all discussed in detail. "The cooperation with all partners went well and harmoniously," concludes Sjoerd Berghuis. "We are very proud of the final result!"

At DUCO, we can only endorse this observation. Nieuwegein has added a beautiful building thanks to all the cooperating parties and we are proud that our products were able to contribute to that story.
Our partners in this project
Would you like to find out more about acoustic louvre grilles?
Download the brochure or contact us to discuss your project in person.