Ecodesign Directive for ventilation products to take effect as of 1 January 2016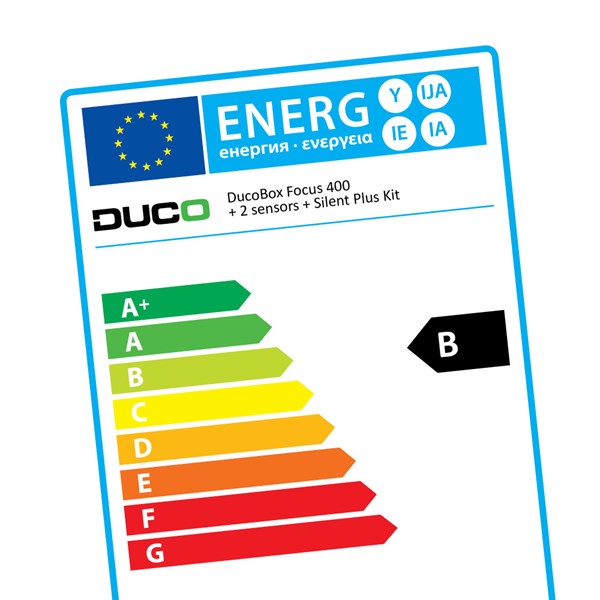 11/12/2015
Who isn't aware these days of energy labels on washing machines, freezers and other electrical appliances? Meanwhile it has become commonplace for not only consumers, but also installers to devote some time to considering the energy performance, efficiency and environmental friendliness of products.
Electrical appliances nowadays comply with what is known as the European Ecodesign Directive. Ventilation products in contrast are still the exception to the rule – for the time being – but this is set to change as of 1 January 2016.

Ecodesign lays down minimum requirements for the energy performance of products. For products with which consumers come into contact, manufacturers are obliged to publish an energy label. After central heating boilers and heat pumps, a label of this type now also requires to be included in the packaging of ventilation units intended for residential buildings. This means that within the product groups listed only Ecodesign-compliant ventilation products may be sold.

The new Directives
The energy label has been designed to help both consumers and installers to understand the energy efficiency and performance of the unit. Accordingly, the label provides information which includes the type and function of the unit, sound power level and maximum output, but has little to say about the actual energy consumption of the ventilation system. Various factors such as the level of (zonal) control of air exhaust and the level of demand control are disregarded after all when determining the energy label.

Duco offers the requisite support where necessary in order to comply with the new legislation. Not only will the energy label be affixed to ventilation products exhibited at shows and on wall displays among other places, but as from 1 January 2016 the appropriate labels for the ventilation system concerned will also be supplied with our two mechanical fans, including a product chart with technical specifications. However it is important for installers that the class should be quoted verbatim on energy labels in all their publications such as quotations and web pages.

In concrete terms Duco's fans, provided with at least two sensors and control valves, will be assigned a B label. At a nominal exhaust flow rate of 225 m3/h the electric power rating for the DucoBox has been recorded as 43 watts. In terms of power consumption Duco's exhaust boxes achieve a significantly better score than systems that ventilate using the System D principle.

At Duco therefore we don't choose between affordable comfort and energy-efficiency, we actually combine both. As far as we are concerned there is no conflict between these two aspects, just a challenge that Duco faces up to again every day!