Van Marcke - Kortrijk (BE)
Architectural solar shading combats overheating and contributes to a comfortable indoor climate in Van Marcke's new office building.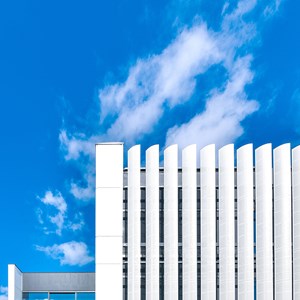 Smart solar shading reduces cooling load in Van Marcke office block
Anyone cruising down the E17 will undoubtedly be struck at once by the gigantic Van Marcke distribution centre and office block. The new building in Kortrijk, Belgium for this Belgian plumbing and heating products distributor was designed by AAVO ARCHITECTS. The building acts as a veritable showcase for sustainable technologies: geothermal heating, fuel cells, green electricity and architectural solar shading by DUCO Ventilation & Sun Control.
New distribution centre and office block
Van Marcke's new European distribution centre is springing up in Kortrijk. "This new distribution centre is in response to growth in a competitive market and meets the customers" changing needs, explains AAVO Architects' Nicolas Karadjian. "Thoroughgoing sustainability is key in all this. A new head office has also been built in addition to a distribution centre. Obtaining a BREEAM certificate was the objective from the outset. This sustainability label stands for sustainability in its broadest sense, from a sustainable building concept to the use of sustainable technologies and materials. As many as 13,660 solar panels adorn the roof of the new complex. Large areas of glazing infuse daylight into the office enhancing perceived comfort."
Preventing overheating
"During the winter months, solar radiation at a low angle provides a welcome input of heat energy. But this has its downsides too", Mr Karadjian stresses. "In order to combat overheating during the warmer summer months, it is best to avoid direct sunlight on the windows as far as possible. Specifically, DucoSun Wing architectural solar shading offers a way forward. The result? A reduction in the cooling load of up to 63% and a substantial drop in temperature without having to rely on an energy-guzzling cooling system."
Wing-shaped louvre blade
The new site for distributor Van Marcke is set to be a showpiece in terms of sustainability and innovation. In the office block, it is the human factor, comfort at work, the outward appearance of the building that mainly predominate as does cost-effective energy consumption", Mr Karadjian continues. Vertically installed aluminium DucoSun Wing louvre blades provide an answer in combating overheating. At the same time, they provide added architectural cachet structurally. These wing-shaped louvre blades act as an extra shell for the curtain wall. They cut out the sunlight, thus preventing the interior temperature from rising too high on hot days. Annoying reflections on computer screens are thus definitely a thing of the past."